GC and ENVICCO organized online seminar "InnoEco: PCR Material, the Sustainability Solutions for Better Living"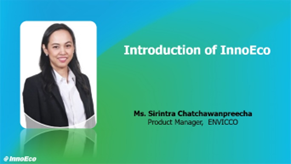 On June 9, 2022, Mr. Varit Namwong, Chief Operating Officer, Value Added Products and Mr. Pornsak Mongkoltrirat, Executive Vice President, Polymers Business Unit welcomed and opened the online seminar "InnoEco: PCR Material, the Sustainability Solutions for Better Living" event organized by GC and ENVICCO. The objective of this seminar was to introduce rPET and rHDPE products under brand InnoEco to the market. The rPET and rHDPE products are produced by ENVICCO, the joint- venture company between GC and ALPLA, operating in high-quality plastic recycling with collaboration among strategic partners in the plastic value chain including GC's YOUturn platform. We wish InnoEco products will be a customer of choice for sustainability solutions both in domestic and oversea market.
There were also expert talks regarding trends and policies of plastic sustainability, PCR standard, as well as innovative PCR material usages from Mr. Utpal Sheth, Executive Director, APAC Plastics, IHS Markit in the topic of "Plastics Dilemma: Moving from Linear to Circular Economy", Mr. Simon Stadelmann, Head of Technical Sales Support, ALPLA in the topic of "Packaging Design for Recycling & Circular Economy from a Global Perspective", Mr. Thanh Lam, Sales Manager, UL in the topic of "Sustainable Solution for Recycled Plastics", and Associate Professor Amporn Sane, Department of Packaging and Materials Technology, Kasetsart University in the topic of "Regulations and Standards for Recycled Plastic in Thailand". This event was participated by lots of plastic converters, traders and brand owners who are interested to use PCR materials in response to sustainability policy.
Furthermore, there were a presentation in the topic of "Together to Net Zero: GC's Decarbonization Pathway" by Dr. Natthakorn Kraikul, GC to communicate GC's direction and activities toward decarbonization and net zero. The key highlight was the last topic "Introduction of InnoEco" presented by Ms. Sirintra Chatchawanpreecha, Product Manager at ENVICCO, introducing InnoEco rPET and rHDPE resins and strengths of these products in terms of high quality suitable for use in bottle packaging application, certified for 100% PCR materials from Thailand waste and rPET is well-suited to form a food packaging according to US.FDA food safety compliance. GC Marketing Solutions or GCM is the sole distributor of InnoEco.